Welcome to ®Soft Track Systems
Special tires for Seiga, Bog, Titan and similar equipment for transport and harvesting of reed in wet areas
Soft Track 1000
Price: €2,495
Outside diameter: 1300 mm
Width: 1000 mm
Carrying capacity: 1000 kg
Floating capacity: 1000 kg
Rim Diameter mounting slot: 610/630 mm
Shipping weight: 90 kg
Shipping volume: 0,3 kbm
Normal working pressure: 0,3 Bar
Max. pressure: 0,5 Bar
Soft Track 1200
Price: €2,635
Outside diameter: 1300 mm
Width: 1200 mm
Carrying capacity: 1000 kg
Floating capacity: 1000 kg
Rim Diameter mounting slot: 610/630 mm
Shipping weight: 100 kg
Shipping volume: 0,35 kbm
Normal working pressure: 0,3 Bar
Max. pressure: 0,5 Bar
Soft Track 1400
Price: €2,795
Outside diameter: 1300 mm
Width: 1400 mm
Carrying capacity: 1000 kg
Floating capacity: 1000 kg
Rim Diameter mounting slot: 610/630 mm
Shipping weight: 110 kg
Shipping volume: 0,4 kbm
Normal working pressure: 0,3 Bar
Max. pressure: 0,5 Bar
WARNING: Mounting of tyres only by trained personal. Inflating tyres above specified max pressure 0,5 bar, may result in severe damage of personal. Do not leave deflated tyres exposed to sunshine. Always store tyres unpacked to natural shape, in a dark place.
Soft Track Systems – History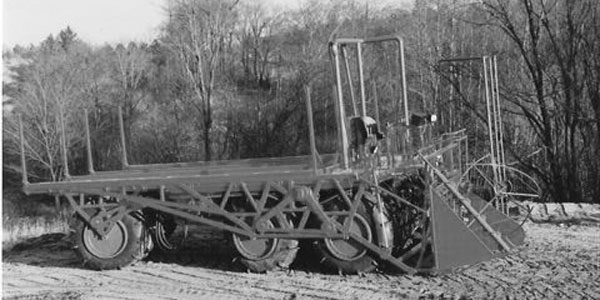 The company was established in 1904 as a specialized producer of advanced agricultural equipment. In 1942 the company was taken over by the founder's two sons, who continued the production under the name of Brd. Pedersens Maskinfabrik, later called Seiga Fabriken ApS, and as a result of the cooperation with the new sales department of export, The Seiga Harvester Company. In 1985 the firm was thoroughly rationalized, and an efficient organization was set up to meet a more open and modern dialogue with the customers. At the same time the name was changed into Soft Track Systems, and all activities, as well as export sales was carried out directly ex works, in order to offer the very best service an prices of products to the customers to whom also all information of the mechanical constructions was released. In this way the customers all over the world was able to make their own transporters based on local components. This policy of open dialogue of constructions made way for an extreme development of the special tires of which Soft Track Systems today is world leading in quality and reliability. All rubbers and processing of the tires are exclusively documented with no compromises at all. This idea has since 1985 placed Soft Track Systems as the leading producer of the tires, specially developed for the Seiga, the Bog Titan and all other equipment based on the idea of travel and transport in severe areas, where too much ground pressure will destroy the crops. Nature made sensitive areas – We made Soft Track Systems.
Contact
Soft Track Systems
Elkær 13
DK-8882 Fårvang
Denmark
CVR/VAT: 17211846
Phone +45 23 86 15 74
E-mail: info@softtracksystems.dk